Product/Market Fit
Workshop
A comprehensive step-by-step learning experience on how to bring new products to market and build highly profitable, scalable businesses.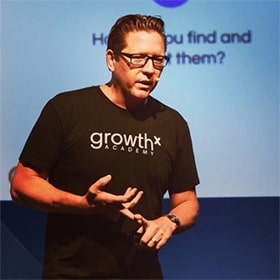 Sean Sheppard
Founder @ GROWTHX AND GROWTHX ACADEMY
Sean is a Founding Partner of GrowthX. He has over 20 years of experience bringing new products to market, including as a five-times sales founder.
Sean's deep expertise has been codified into a proprietary market acceleration program and entrepreneurial sales training curriculum.
In addition to helping dozens of startups find product-market fit and predictable revenue models, Sean helps global multinationals to identify new applications for their existing technology portfolio, bring new products to market with profitable business models, organize and train self-managing early product-stage sales and marketing teams. Sean's successful corporate advisory track record includes work for Bridgestone, Canon, Faurecia, and Clariant.
Sean is a globally recognized sales and marketing thought leader. He was named One of the Top Sales Influencers You Should Be Following On Social Media and he was included in Top 20 Inside Sales Influencers. Sean is a former professional golfer, PGA certified golf instructor, and an active mentor, advisor and guest lecturer at global startup accelerators, innovation conferences, and colleges and universities including Galvanize, Alchemist, GSVLabs and the London Business School.